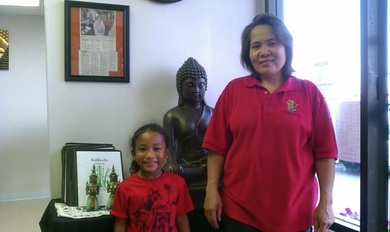 Owner and Thai Chef: Phouvaing Senket
Tri-City Herald Interview
Thai-born mom's home cooking hits Kennewick By Loretto J. Hulse, Herald staff writer KENNEWICK — Next time you have a yen for Thai food, you might want to check out the Thai Garden Restaurant in Kennewick.
It's a lot like having a Thai-born mom or grandma cooking for you.
The restaurant is co-owned by Phouviang Senket of Kennewick, who does the cooking, and her daughter, Panya Senket of Tacoma. Panya makes the drive to Kennewick each weekend to handle the restaurant finances and help out front.
She also updates the website, www.thaigardenofwashington.com, and Facebook page.
Panya's two brothers, Saming and Andy Senket, both of Kennewick, also work at the restaurant. In all, there are five paid employees.
"Someday my mother and I hope to get paid too," Panya said.
What sets Thai Garden apart from other Mid-Columbia Thai restaurants -- there are more than 10 -- is Phouviang's insistence on freshness and quality, said her son, Saming.
"She does not compromise on food quality and we use no MSG. Also, some restaurants will precook their meats and keep them in the refrigerator until an order comes in, not here. Everything is cooked to order, so you're not just reheating some of the ingredients," he said. "We're not fast food, but good food."
Phouviang honed her kitchen skills cooking in Thai restaurants owned by others for the past 15 years. Her recipes she refined cooking for her family.
"I've eaten at a lot of different Thai and Asian restaurants, and my mom is by far the best cook of all," Saming said.
Customers Bob and Rosa Clark of Kennewick agree.
"This is the best Thai food I've ever eaten," said Bob Clark.
He and his wife have been eating at a different restaurant each week for two years.
"We've tried them all. But since this one opened, we've been in three, four, five times. Everything we've eaten here is great. And you get it the way you want it," he said.
Panya said her mother doesn't mind making changes to a dish.
"We want you to be happy, to go tell others about our restaurant and your experience," Panya said.
Saming said their mother has worked hard to keep prices down. Entrees range from $6.95 to $12.95, depending on what protein you choose. Tofu and vegetable dishes are the least expensive, those with shrimp, mussels and other seafood cost the most.
Weekdays, there is an all-you-can eat buffet from 11 a.m. to 3 p.m. for $6.95. There always is a noodle, a rice and a curry dish, spring rolls and cream cheese stuffed wontons, plus a cook's choice dish.
"That changes every day. It just depends on what my mother feels like cooking," Saming said.
Panya said her mother has dreamed of opening a restaurant for five years.
"She's tired of working for other people. She wants to cook her food, her way," Panya said.
Just more than four months ago, Phouviang decided it was time and called her daughter in Tacoma. That was a Thursday and by Friday she had all the equipment and a location.
"She called me the next day, Friday, and said, 'Can you come over and meet with the Realtor at 4 p.m.?' I couldn't believe she did all that in one day," Panya said.
The place her mother found, 101 N. Union St. in Kennewick, was ideal. It has housed Italian, Mexican and Asian restaurants, so it already had a range hood system in place.
"That would have cost us another $10,000 or so to install. And the sign too just needed the name changed to Thai Garden," Panya said. "It was crazy how it all happened and came toge-ther. It was just meant to be."
Read more:
http://www.tri-cityherald.com/2011/03/18/1412964/moms-home-cooking.html#ixzz1XaphSfQm